L.I.F.E. =

L

OSERS'

I

NTROSPECTIVE

F

EELINGS &

E

ROTICISMS
This may be an Institute grounded in Psychology and not one asking Psychics, being directed by Authoritative Determinism instead of seeking a foundation of Free-Will, but for now we shall put those standings aside and gaze into the Future using our...
W

heel

o

f 

mis

F

ortune

!
Hover over the images upon the wheel below for the wheel to stop...
...and then click any of those images for Humiliating Happenings:
DISCLAIMER & ATTRIBUTION:
Original coding & design done by Luca Fagioli and is published and licenced for public use & alteration under the Creative Commons. For this program's usage licence & terms, and for proof of our proper compliance therewith, see CC BY 3.0. The code & design presented here at the S.S.I. has been modified from the original. The original developer is not associated with our Website. While the concerned alterations (varient) is of our creation, we attach no rights nor claim any besides those defined within the aforementioned licence.
If you are wholly unable to click on any of the images, if using a Mobile device mainly, then have a glass of water, rest for an hour, and once your blood isn't a mixture of diluted Beer & Rum you can try once again... And if at that point you still cannot do this, then it is time you finally look into bringing a lawsuit against your hometown educational system. Otherwise, the wheel is pretty straight forward; being likened onto another visual & interactive site-map (speaking of our main one here: https://samanthasummersinstitute.org/about/ssi-sitemapping/).
PART I: The Loser Locator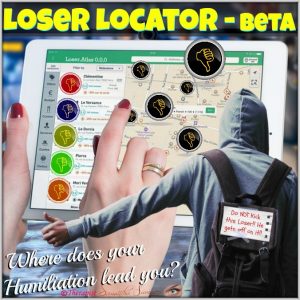 INTERACTIVE EROTIC-HUMILIATION APP COMING SOON!
This content is protected. Please enter the password to access it.
---
PART II: Humiliation Haystack
s

t

a

i

r

w

ay down to H

e

a

v

e

n
EROTIC-HUMILIATION INTERACTIVE TREE COMING SOON!
This content is protected. Please enter the password to access it.