Custom Contract Calculator
Personalized Consensual Blackmail Quotes from the S.S.I.
(If you have already obtained unlimited access to this useful tool, you may skip to the access form below.)
This Personalized Consensual Blackmail (Erotic Extortion) Contract Cost Estimation tool is available for virtually unlimited use (in addition to an informational breakdown of the balls & chains within most contracts produced by the S.S.I.) after a one-time access fee of only $9.99 (USD) through the secure & trusted payment processing used by Niteflirt®. For more information, or to obtain your access key, click the following image: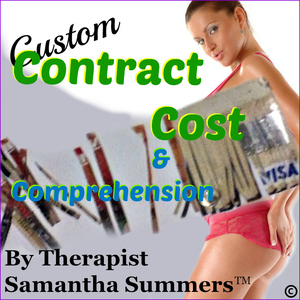 The additional Guide/Appendix for this Personalized-Contract Cost Calculator (access to which is included in the above noted purchase for no extra cost) can be found at:
Following your payment of the one-time access fee, you may enter the associated password below:
This content is protected. Please enter the password to access it.