Cuckolding Consensual Blackmail Contract
"Making Cuckolding Contractual", only here at the S.S.I.

Cuckolding might be common-place these days in the Realm of the Fetish World, but it would seem that there is way more Word-of-Mouth than Penis-and-Pussy going on. Well, here at the SSI we are taking steps to change that… and to give those sex-starved size-queen wives of yours the Man-Meat they Want and Deserve!
"Happy Cuckolding Wife; Happy Cuckolding Life."
This Consensual Blackmailing Contractual Agreement includes over 1 Dozen legally-bound tasks to be completed by the participant, or rather, by the Signer. Failure to due so may result in quite a few consequences. So, the question is… are you man enough to give your Lady the Man she desires?!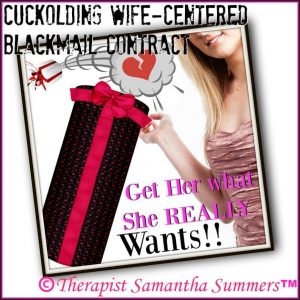 Interested?… I had thought as much!
The entirety of this Consensual Blackmail Contract is available for purchase for only $19.99 (USD), and can be obtained via the trusted Niteflirt® hosting platform.
It is FREE to Join, and no previous purchase or commitment is necessary in order to get this One-of-a-Kind Erotic Contract.
⇐ Simply click on this contract's Cover-Photo to the left in order to obtain.