Frequently asked Questions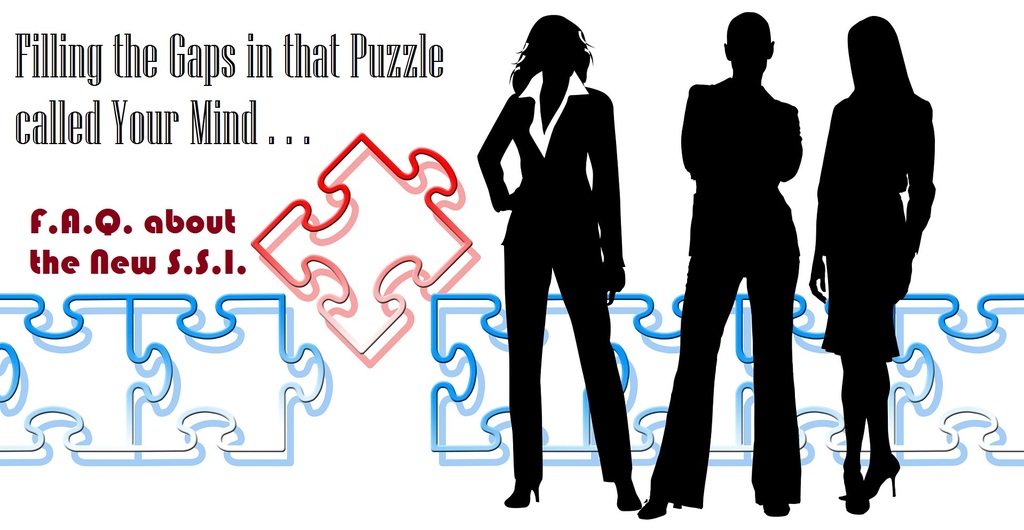 Answers by Therapist Samantha Summers
New Questions & Answers will be added on an P.R.N. (as-needed) basis. Check back soon for updates.
Q Is samanthasummersinstitute.org just another website for the S.S.I. in addition to the samanthasummersinstitute.com?
A No. This new version of the original .com website is going to completely replace the first site. So, in essence, we are phasing out the .com in favor of where you are now. Virtually everything you see on the .com site will be here in due time.
Q Why a new site at all? What's wrong with the previous one?
A Well… if you've asking that, then either you haven't been to it lately, or you have been using dial-up! While it is a comically slow site, kidding aside, its snail speed was not the lone reason for the change. In fact, the reasons for this change were & are many, and are various. However, as I don't want to leave the question blandly answered, a few reasons for a wholly new site were:

The old site being on a "Shared" Server had security worries, and dependency issues.

The inescapable series of Trials & Errors for someone new to the website-scene left scars.

Starting off in one direction, and things curving as they evolve, a new starting point was needed.
Q I just bought a Pay-to-View, but it says that the files are on the old site. Can I still get them?
A Of course! It would be quite thoughtless of me to be selling things which can't be used. (Though it might be quite the thrill from those who are into straightforward "Rip-Off" FinDom Fetishism.) At this time, most PTV files & programs are still found on the '.com' site. But just as with those which have already been relocated, when it is go-for-launch here all old links will be automatically redirected. So, don't worry.

Q What are some of the new "features" that I've been hearing about?
A Other than optimized performance, greater stability, easier navigation, and over 99% up-time, with a streamlined layout, yes, there are (and will be) bigger, better, and first-of-their-kind features to see here at the new S.S.I. While some are simply for your safety, such as this site being 100% HTTPS (so that not even Fly-by-Night Blackmailers snatch up a single crumb of info from my Contracting-Court per se), many others will most definitely cause you to have a surge of sexual sensation. I cannot reveal too much, nor even hint at some things, but I can mention some of the minor things such as…


Automatically production of Personalized PTVs via Q&A forms

Several levels of Membership; each having access to different pages & even different abilities

Interactive Sexual-Health betterment plans, procedures, and personal progress

Q If I can only buy your PTVs through Niteflirt®, why do you have your own site anyway?
A While yes, virtually all of my Pay-to-Views are sold exclusively through Niteflirt®, keep in mind that www.niteflirt.com is a hosting-platform which I, as one of thousands of Female (and Male) Business Owners, use as such. So, my choice in having a website is the same as the choice for the head of a Law-Firm setting up a site or not. However, that being said, the reasons go far beyond that. Those of you who have obtained some of my Pay-to-Views have probably noticed that many (if not most) are quite different from most others which you've found hosted on Niteflirt. This is because those projects involve/include the use of programs & overall underlying complexity which is not able to be stored/hosted directly on Niteflirt. Having my own website allows me to create the unique & extensive projects which have kept hundreds of men coming back to partake of what's new.
Q I am a Registered User. Where is the new Login?
A If you've been crawling around every nook & cranny of this site looking for the Members-Only Sign-in, your search is finally over. There isn't one! Yay! *Laugh.* No, I am not kidding; though, no, your money spent on Membership wasn't wasted. As one of the Extended Features on the new site concerns Private member profiles, account areas, storage of purchased files, etc., the Members' Programs/Pages have quite a bit to them. Thus, those things remain under construction and you'll see the new login fields once they have a finished place to send you to.

Q I've bookmarked my favorite parts of the old site. Do I need to update them all?
A No, there is no need for you to do so. Just as old Pay-to-View links will be automatically redirected to their new homes, virtually all pages you've seen on the '.com' are going to be here in one form or another. So, unless it was a bookmark to content that ends up being tossed into the trash bin, your bookmarks & favorites will still find their way.

Q Are you (Miss Summers) still running things on the new site?
A 'Yes' and 'No.' Those of you who know me know that I'm not a Computer Geekess, so if it were I doing all of the über-complex coding, you'd be able to bet on the site staying up for as long as you last in the bedroom without a little blue pill… So, just as companies have their own Technical Departments, I have my Web-Designer, whom takes the blueprints I've drawn-up and gets to building so-to-speak. But yes, generally I am still the one writing everything, reading everything, designing everything, and the one speaking with you –as most of you've heard, *laugh.* 
Q I hate to ask this, but can I make a request for something to be on the site?
A Though you may expect me to give such a question the Snobby sort of Brush-off, the simple answer is 'yes.'  All you need to do is scroll on down to the 'Comments' section below and ask forth. But whether such will be set in motion or not is solely my decision. *Wink.*

Q I like the old site better…
A Not really a question, but okay, I'll answer the statement with a statement. "You can be the ripest, juiciest peach in the world, and there's still going to be somebody who hates peaches", to quote Miss Dita Von Teese. To be clear, I'm not saying that this new version of the S.S.I. site is the high & mighty of websites, but rather that shooting for perfection is an overshoot. I myself liked some things on the previous site which are not going to be here; as I made the proper decision in putting performance over what's pretty. So, to be o' so blunt, it is what it shall be.
With 2015 coming to a close, I have a Year's End message for you. It is, in fact, a 10 minute long audio (though it isn't some long-winded nagging session, *laugh*) concerning several things (both those Sexual & not). It also doubles as a 'Thank You', which is why it indeed takes pity upon your change-purse (so-to-speak), being only $1.00 (USD).
For more info on this Mp3, and to obtain a copy, you should do so here: