Cognitive Dissonance of Your Core Desires
Series for the Self-Awakening of Your Personal Sexual Preferences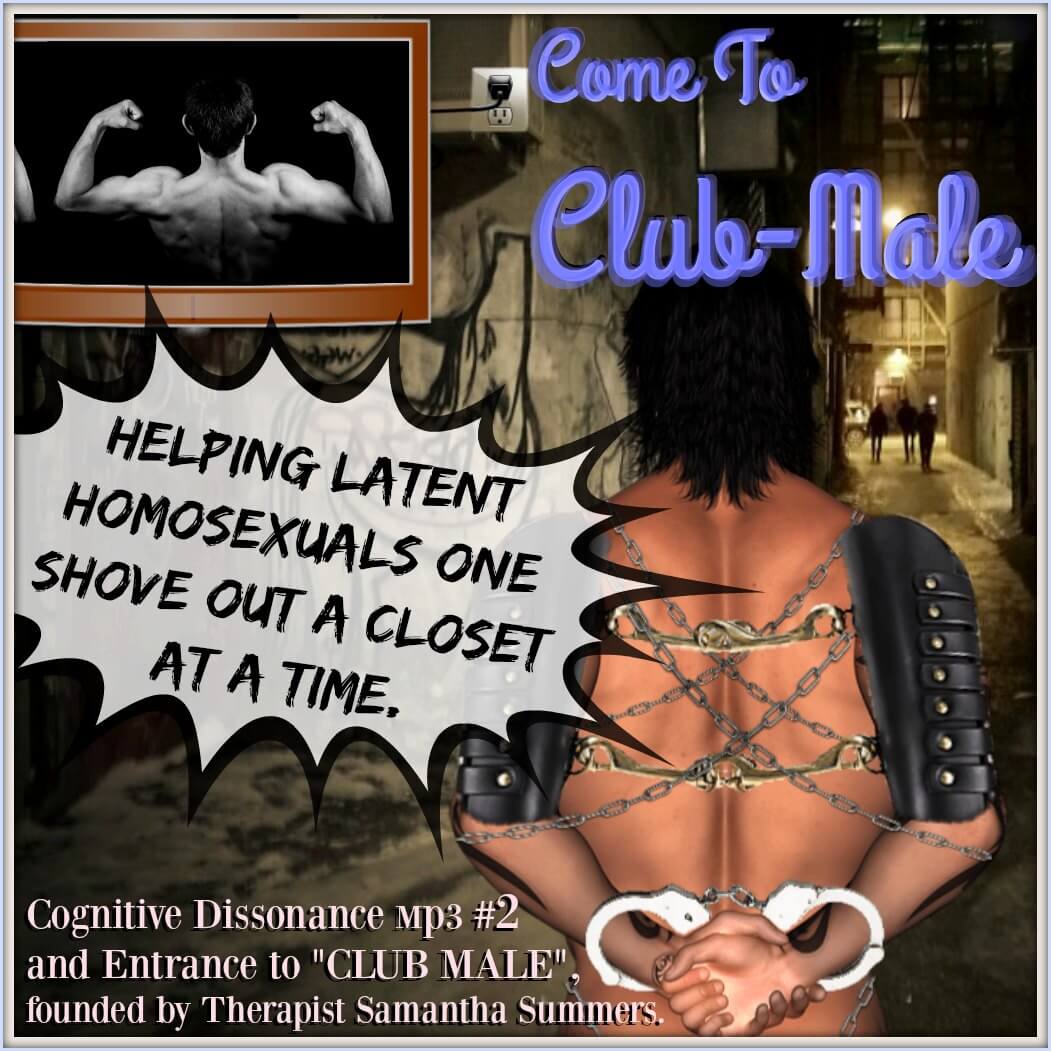 Presently, there are 4 programs available as part of this aidful Erotic-Awareness Series:
You may click any of the Cover Photos below in order to view the ordering page for their respective programs at any time.
Welcome to "Club Male" (Cognitive Dissonance #2+)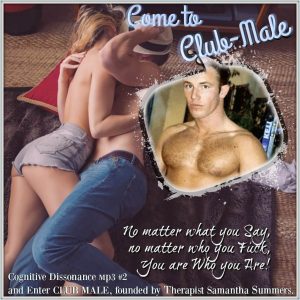 For more on this portion of the Cognitive Dissonance Program, see the specifics further down on this PAGE. Or, to obtain for the one-time price of $9.99, click on the cover-photo. (Purchases are made through the Niteflirt® payment system.)
With an Erotic Self-Awakening Mp3 over 7 minutes in length, and 4 Homoerotic GIFs (20+ frames each), this Revisitation of your Rogue Reasoning concerning your out-right Refusal in regards to Acceptance of the Aim of your Arousal furthermore includes the Entrance into the SSI's Special CLUB MALE™. "Club Male" is an interactive play-pen of sorts, made just for those Special People hiding their Sexual Preferences (call it a Role-Playing Activity for the role you are at odds with presently). Club Male is the '+' in this project's title ending with "…#2+". Pertaining to my 1st Cognitive Dissonance Audio (which can be found below), I had said that it was "Time for the closet doors of reality to swing open", but it is not yet the time for you to step out into the proverbial Light… And so, I will now bring you into the Latent Underworld where your entrance into Homoeroticism may be one of ease rather than an errant one.
Admit your Homosexuality (Cognitive Dissonance Mp3 #1)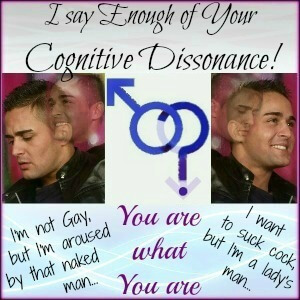 This 10 minute Bilayer 'Erotic-Ed' Audio, being both Arousing (Erotic) & Aidful (Educational), is for those of you who are in denial over your Gay'centric desires. No more of the broken-record, which usually repeats to the tune of "Mistress made me do it." It is time for the closet doors of reality to swing open. You CAN handle the truth! (Despite being short, this Mp3 has an intro, explanation, overt eroticism, a whisper track, effects, and more.)
The Girl Inside (Mp3)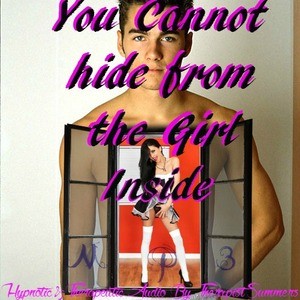 Almost a Half Hour in length (28 min), this multifaceted tri-layered audio for those of you who have a desire, not FOR the Feminine, but OF the Feminine; those whom have a wish to be a woman to one extent or another. This is an Erotic, Therapeutic AND Hypnotic Mp3 with proper inductions, sound effects, detailing, and much more. You cannot hide from the girl inside, so come on in so that I may let HER in.
"The Girl Inside" has been on the SSI's TOP 10 PTVs best-sellers longer than any other single product.
The Tell-Tale Cock (Hypnotic Vid/Mp3)

Welcome to the Cuckold Zone; the surreal juncture where reality and fantasy meet  & the sexual desires of everyday men and women,  compel  them to cross the the line into the unknown corridors of their sexual psyche. For this episode, a man with everything a man could possibly want, risks it all  to see the love of his life with another man; will he lose or gain? Find out in this episode of the Cuckold Zone. This Mp3 is 26 minutes long with hypnotic imagery, binaural beats, and a whisper track; I just love whispering into your ear. See you in the Cuckold Zone.
While this product pertains to Cognitive Dissonance, it is also Part I of the CUCKOLD-ZONE Erotic Audio Series, the other parts to which can be found HERE.
SNEAK PEAK at the SSI PROGRAM
Cognitive Dissonance #2's "Club Male"
Below, you'll see an image (i.e. a screenshot) of "Club Male", an interactive part of this multifaceted program. The actual thing, which can be obtained for only $9.99 via its respective cover-image further up this PAGE, has a Dozen portions for the User to interact with (things which trigger XXX images, animated arousals, and more). Now despite what is below being an image, it is not a static one. Rather, if you are to hover over it for a moment, you will see it change into an alternative one; a similar image, one having numerous comments & notations throughout. This separate explanatory teaser concerning this part of the project is further accessible by a single click upon the image at hand; a new window with the full-sized visual-guide of sorts opening up once you click…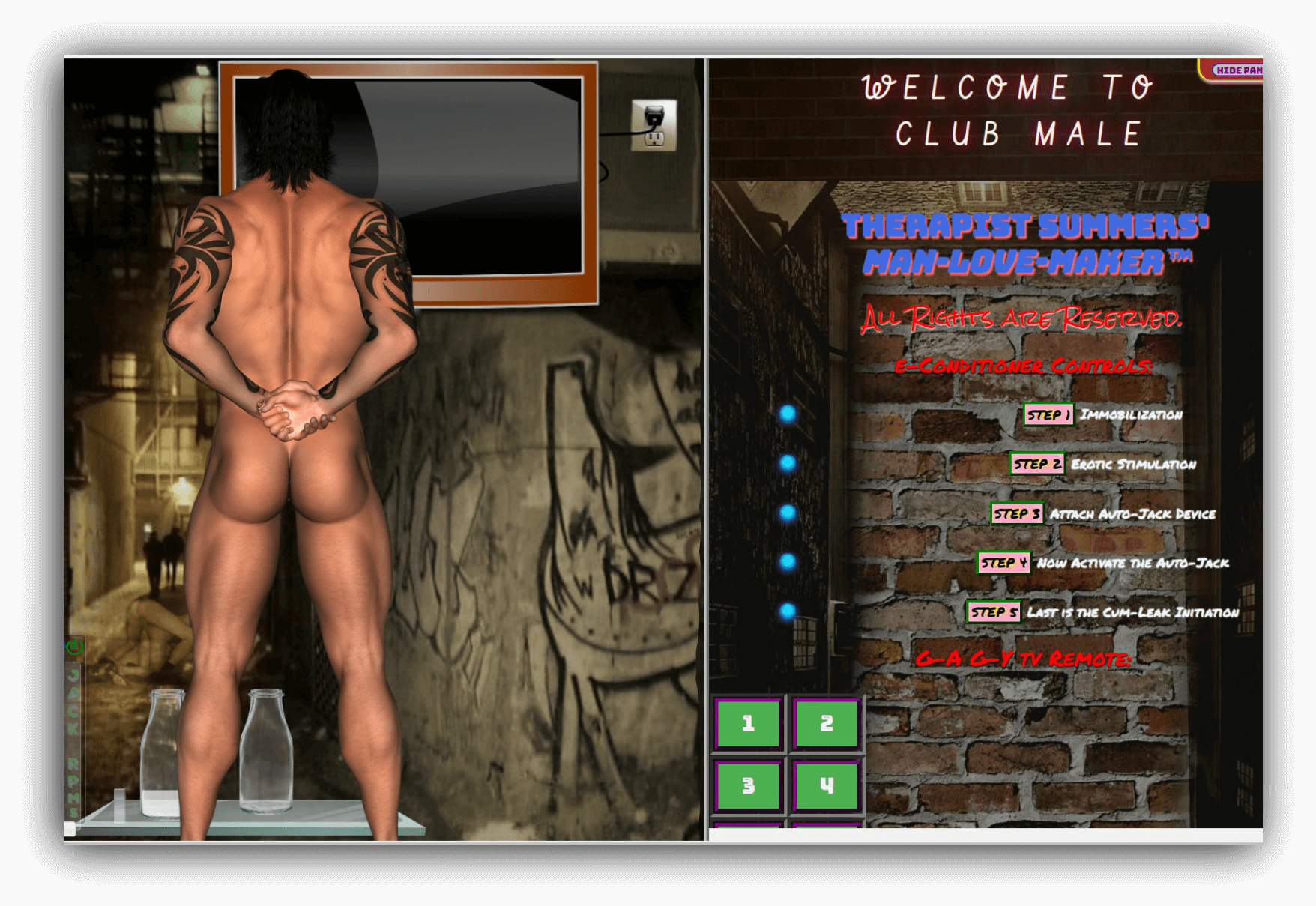 …