Do you have a PANTY Obsession?
Female Underwear can play a role in many Sexual Fetishes. They can be something minor & situational or they can be an absolute necessity in someone's sexuality. One may wear them to be humiliated, or they may just love the feeling against their skin. And they can be involved everywhere in between; stealing them, sniffing them, staring at them, or just enjoying a little peek when a woman bends over and reveals that they are wearing a thong.
But to what extent do panties play a role in your sexuality? Is it minor and incidental? Is it a cornerstone to another fetish? Or is it a full blown PANTY ADDICTION?
The following 20 question exam will analyse and discover the answer to that very question. Let's examine your sexuality, your behaviors, as well as your thoughts in order to see where you are on the panty fixation spectrum.
In order to obtain the password for unlimited access to this exam for only $2.99, click on the thumbnail below and then enter the password in the field thereafter. Your results will be automatically calculated and you will see the explanation of your score. You may take it as many times as you wish and it is recommended that you submit your results if you wish to review them with me.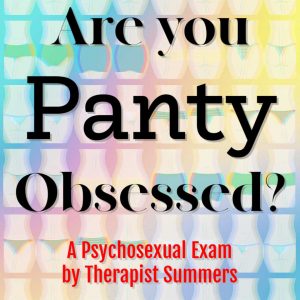 Please enter the password below and remember to submit your results at the end if you wish to go over them.
This content is protected. Please enter the password to access it.
Are you panty obsessed?
was last modified:
April 27th, 2022
by
This exam is the intellectual property of the Samantha Summers Institute LLC. All rights are reserved.
Are you panty obsessed?
was last modified:
April 27th, 2022
by