The SSI's Sexual Health Questionnaire
3rd Ed. by Therapist Samantha Summers
…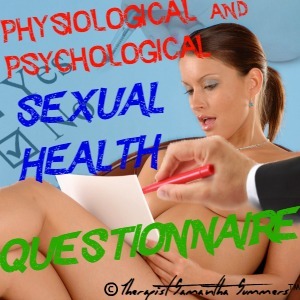 This is the complete remaking of my original Sexual Health Form from 2013. This new version includes 38 photos as choices for some questions, and shall really get you thinking about your Sexuality. Unlike the first, this version focuses on Fetishes, Addiction, Sexual Dysfunction, & more. Also, this version is compatible with PCs, Laptops, iPads, iPhones, & most Smartphones. I'll learn what I need to know, but you'll also learn things about yourself you hadn't realized!
—Therapist Samantha Summers
…
FURTHER PTV DETAILS:
Price: $7.99 (USD) via Niteflirt (Free to Sign-up)
Requires: Javascript, Cookies, Mouse or Touchpad
…
…
Once you've obtained your access key for this PTV Psychosexual-Project, you may enter it into the Password Field below:
This content is protected. Please enter the password to access it.
Sexual Health Questionnaire
was last modified:
July 7th, 2016
by
…
Sexual Health Questionnaire
was last modified:
July 7th, 2016
by