The SSI's Porn Addiction Exam
Are you out of Control?
With the proliferation of pornography across the world wide web, and with porn being easier to access than water, the number of those with addictions to it has greatly grown. It is important to know whether or not your interaction with porn is healthy or has grown into an addiction. Here at the SSI we have an easy exam to test to see how healthy your porn viewing is. Once determined, then you can know whether or not you need guidance in your porn behaviors.
This specialized exam involving 30 questions pertaining to your porn habits will gauge whether or not porn has become an addiction for you. Your results will be automatically calculated and you will see where on the 4 class spectrum your porn viewing activities fall as a whole. It is recommended that you submit your results upon completion in order to go over them with Therapist Summers.
Click the image below in order to obtain this addiction examination for only $1.99 and then enter the password in the field found further down.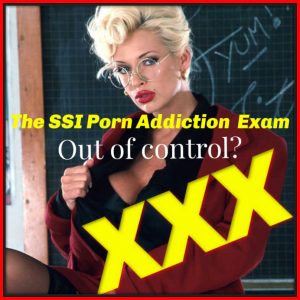 Enter the password below in order to access the Porn Addiction Exam:
This content is protected. Please enter the password to access it.
Porn Addiction Exam
was last modified:
September 9th, 2019
by
---
Disclaimer: This exam is not intended to diagnose, treat or cure any medical or psychological ailment or issue. This exam scores an individual on behavioral actions which the SSI deems healthy or unhealthy for the individual and is not intended to be an actual indicator for an addiction or disorder. Please see samhsa.gov if you believe that you have an addiction.
Porn Addiction Exam
was last modified:
September 9th, 2019
by