The SSI Ruination Examination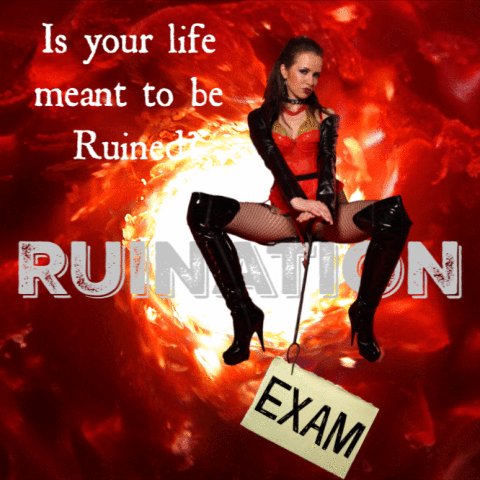 This page contains the Erotic Examination concerning Ruination. For the separate page on the Ruination Fetish, see https://samanthasummersinstitute.org/problematic-paraphilia/ruination-fetishism/.
Ruination, often being combined with Blackmail, Financial Domination, Homewrecking and more, can be one of the most dangerous & destructive of the Psychosexual Fetishes; as its name obviously implies. It goes beyond the sexual excitement of RISK. It is a head first dive into the empty pool of Reality. While Erotic Ruination often begins as fantasy, the moment it becomes the slightest bit real, it can spiral into all out destruction. It isn't a fetish based on risk. Rather it is based on laying your life waste… for Mistress… and for a thrill that hits a unforgiving wall.
So, the question is… Is your life meant to be Ruined? It is time to find out…
This specialized exam, containing 100 questions, will evaluate all different aspects of the Ruination Fetish and see to what extent you desire it. From fantasy to reality, from Financial Domination to Homewrecking, this evaluation will gauge just how deep into the fire you are. The results are broken down into 5 sections ranging from icy to an inferno and each contains a small explanation. So let's see where you fall on the heat spectrum of Ruination.
In order to obtain this Exam, you may purchase it via Niteflirt for only $4.99 by clicking the button below:

After your purchase, enter the password below in order to access this Exam:
This content is protected. Please enter the password to access it.
Ruination Examination
was last modified:
March 5th, 2019
by
Ruination Examination
was last modified:
March 5th, 2019
by