THE NAME SELECTOR
OF THE SAMANTHA SUMMERS INSTITUTE
The following password protected portion of this webpage constitutes the first portion of the "Assigning Assignment" Erotic PTV series (specifically: "SS-Ultra SciHyp, Set A").
This 5 Step series of assignments is the first flight of stairs that are ascending the upside-down tower of Subservience through Service, Skill and Subversion. Whether you are (or rather wish to be) Sexually-Submissive, Logically-Loyal, or Socially-Submerged, this lot of seven Interactive Tasks is an integral start (if not an imperative prerequisite). It would be proper that you consider these tasks as your beginning of becoming a Sub. —Therapist Samantha Summers (your Trainer, Teacher, Therapist & Mistress)
ON SALE NOW!
ONLY $4.99 (USD) FOR THIS 5-PART COURSE
ON PSYCHOSEXUAL SUBMISSION!
For more info, or in order to obtain this entrance to being a True Submissive, visit the linked image below:
ASSIGNING ASSIGNMENT DOWN FOR MAINTENANCE!
PLEASE CHECK BACK LATER.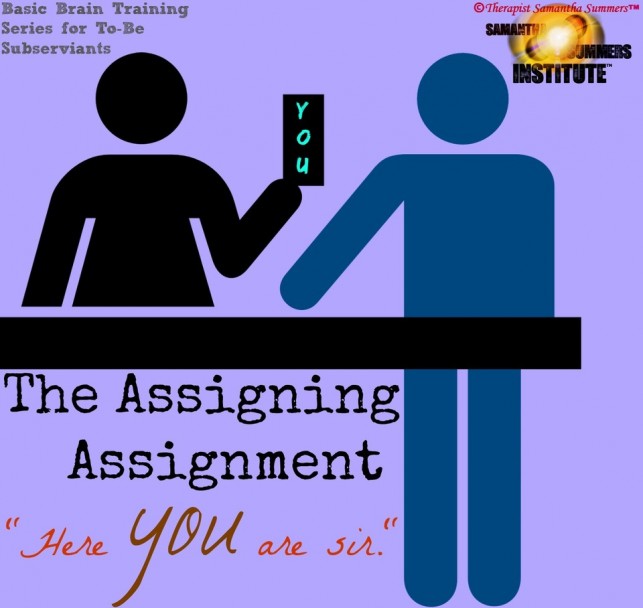 You will only be able to submit the following form once, so you are advised not to hit the back button upon submission.
If you incidentally lock yourself out of the form, or have trouble with entering the Password below obtained via the associated Pay-to-View, contact us at CONTACT INFO at your earliest convenience. Thank you.
This content is protected. Please enter the password to access it.
Name Selector
was last modified:
July 18th, 2018
by
Name Selector
was last modified:
July 18th, 2018
by