Gay Pride Flag goes Prude!
At one time or another I'm sure that you've seen the so-called Rainbow-Flag of Gay-Pride. But more likely than not, even if you personally show your support of Gay Pride via a Flag in your window or a Sticker on your car, you are using a flag which differs from the original which was first seen in 1978. Yes, just as with many flags, the Rainbow Flag has changed over the years.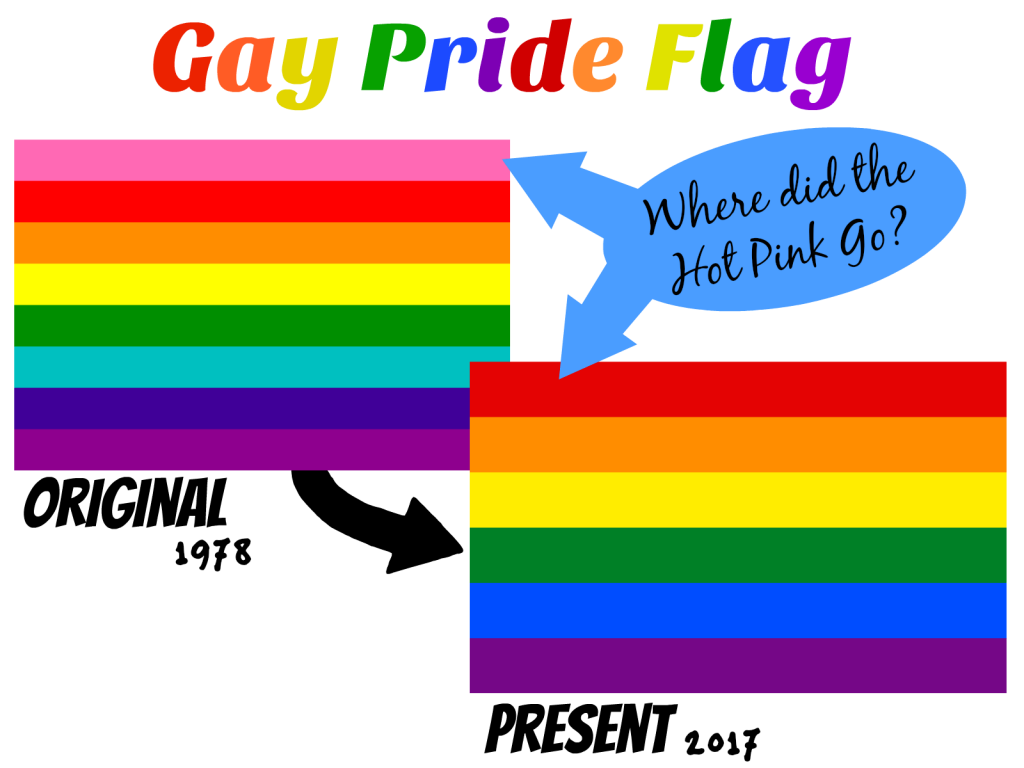 Back when the Flag was designed in San Francisco, it consisted of 8 colors, those being…
Hot Pink

Red

Orange

Yellow

Green

Turquoise

Indigo

Violet
But if you look at today's LGBT Flag, you'll find that the Rainbow has been reduced down to 6 colors, Hot Pink as well as Turquoise having since been removed. To be fair, a few recent variants have reintroduced Turquoise back into its stripes, but in place of Pink they've tossed in Black. Thus, the original top bar of the Rainbow, Hot Pink, remains the stripped color from the Pattern.
The common reasoning for Hot Pink's dismissal from the Gay Pride Flag seems to be "due to fabric unavailability"[source]. Really? That was the reason?! Well… maybe it was… but in this writer's opinion, it is a cop-out excuse in order to mask the real rationale behind its removal, and I say this with the backing of quite a bit of Hot Pink fabrics (both Polyester & Cotton) being around back in the late 1970's [source].
.
.
Prude Gay Pride
was last modified:
May 2nd, 2017
by